The Friendliest Breed of Chicken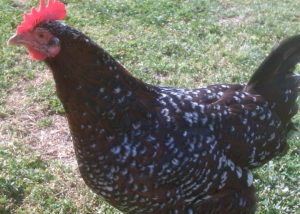 People often ask, "how friendly are your Basque hens," or "what is the friendliest breed of chicken?"  I think its important to look a little deeper and try to find out what you're really looking for: the most docile chicken? or the least people aggressive rooster? or the most inquisitive?  There are a number of ways that a chicken can be "friendly."
Our Experience
We have had several breeds that would allow us to pick them up without any fuss.  A few of our Basque hens would follow us around the garden and come right up to our feet, allowing us to pick them up and carry them around.  We had a Cuckoo Marans that my youngest daughter could carry just about anywhere.
Perhaps the most "admired" chicken on our ranch was a Speckled Sussex named Lucy.  She was one of our original flock, lived a number of years, and would come when called.  She loved to "work" right next to you in the garden, scratching and pecking, relentless in her pursuit of the next tasty bug or worm.  That said, she wouldn't stay still if you tried to pick her up, but she didn't put up a huge fight.
Boys will be boys
As for roosters, both of our Basque hen roosters were quite protective, often challenging us when we entered their pasture pen.  Our Barbezieux are rather aloof as a group, but the roo's and the hens will eat out of your hand if we're patient.  We had a Buckeye roo that was by far our favorite rooster.  He was protective of his hens when other roos were around, but was a great provider, never challenged people, and with some effort (in the catching) would let me hold him without too much fuss.  That's no small thing for a nine pound cockerel.
All in all, my experience has been that the more time you spend in and around your birds, the "friendlier" they will be, at least toward people.  This has not necessarily held true with the roosters, but how friendly do you really want a rooster to be?  Attacking people? No.  But protecting hens is really what a rooster's life is about.  We offer our birds food from our hands on a regular basis, and few will refuse this treat.  This goes a long way toward creating a friendly flock, allows us close observation of the birds, and makes it easier for us when we need to catch them.
Ranking our breeds for "friendly"
Some birds tend to be more curious about people than others, a trait that makes them great as pets, but can be a slightly less beneficial in the field.  That said, among the breeds we are currently raising, here they are in order of "friendliest" (meaning- easiest to handle, calm and docile)
Hope this has been helpful.  Please feel free to ask any questions.  Happy New Year!
Sunbird Farms