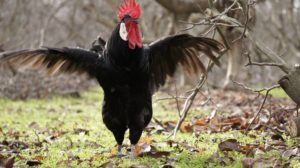 The Barbezieux, virtually unknown outside its own country, is a chicken who's famous flavor has been delighting the fortunate few for centuries.  Jean Anthelme Brillat-Savarin, author of the 1826 book "Physiology of Taste" and father of the the genre of food writing, described his first experience feasting on a Barbezieux as one "riddled with excitement."  "What could be more pleasant than [this chicken] that grabs all the guests at the sight and smell of a beautiful Barbezieux?"  Indeed.
Recognized by the Gault et Millau (France's most respected guide to dining) in 2001 as one of the best tasting chickens in all of France, this beautiful bird continues to excite gastronomes that are lucky enough to enjoy it.  The Barbezieux was nearly lost after the war, existing on the edge of extinction like many other heritage breeds.  In 1997, a handful of "conservateurs" in France worked to restore the Barbezieux in it's natural home.  Sunbird Farms was able to acquire some of the earliest importations of this breed.  We are raising our breeding stock under the cover of our heirloom walnut trees, on natural pasture and organic, local grains.  We finish our birds in the traditional methods, creating a table experience unlike any other.
In February of 2016, in celebration of the World Ag Expo, Sunbird Farms offered the Barbezieux to a few lucky diners at the historic Vintage Press restaurant.  To our knowledge, it was the first, and perhaps only time this premium poultry has been made available to the public at any restaurant in the country.  We are grateful to all who joined us for this event and the opportunity to bring this level of culinary experience to our local customers.
The Barbezieux is at the pinnacle of historic poultry, a peek into our food past and an example of the level of gourmet poultry that Sunbird Farms is excited to bring to our community.